Grown In And CBAI Partnering Up; Is Cannabis Recession-Proof?

Dear Reader,
This week Grown In is beginning an exciting new partnership with the Cannabis Business Association of Illinois (CBAI). Starting today, Grown In content will be sponsored in part by CBAI and the twice-weekly Grown In newsletter will go to CBAI members and CBAI-interested readers. In addition to the impartial reporting you rely on, the Grown In newsletter will include sponsored messages from CBAI on their members and on-going activities.
We're excited to work with CBAI Executive Director Pamela Althoff and the CBAI team to deliver the best cannabis industry news and information for Illinois. By partnering with CBAI we expect to deliver more insider details of how the state's industry is operating, as well as more relevant information for those currently in the industry and trying to learn more about the industry.
If you're reading Grown In for the first time as a CBAI member or follower, welcome! Grown In is Illinois' only cannabis industry-focused newsletter, operated by news veterans with decades of business and political reporting experience, launched last December. To get a sense of where we come from, you can take a look at our past reporting here.
If you're a new reader with questions, you have a lead, or just want to say hello, please drop a note to Brad or Mike anytime. We love to hear from you.
- Brad Spirrison & Mike Fourcher
---
Now, for our regular Monday morning news:
Is cannabis now an officially recession-proof good like alcohol and fast food? That's the chatter after Illinois released adult use cannabis sales numbers for March on Thursday. Sales ticked up $1.1 million over February, totaling $35.9 million for the month of March. It's nothing like the national increase in alcohol sales, which jumped 55% in the week ending March 21, according to Nielsen, but for a burgeoning industry still burdened by conservative opposition and a very active underground market, a 3% month-over-month increase in sales during one of the most devastating recessions in history is nothing to be sneezed at, right?
Being recession-proof is key to success these days, since we seem to be heading towards if not a global economic apocalypse, then at least some sort of bonfire. Unlike many other industries, which are laying off and furloughing employees at a furious rate, the cannabis industry in Illinois seems to be struggling with not enough employees, as some stay home for health reasons, and companies are now looking to cross-badge employees so they can work at multiple facilities to cover the worker shortfall.
So cannabis is doing great! If we sustain the same sales growth rate as last month, we'll end up with a 50% annual increase, an enviable number for any industry. But then there's the whole problem of capital availability: If cannabis companies keep burning cash, where are they going to get money to stay in business?
As we reported last week, the planned purchase of Verano Holdings by Harvest Health & Recreation seems to have collapsed largely due to Harvest's sudden need for cash, as the economy fell apart. Laster this month, most of the U.S.-based cannabis companies will report their 2019 financials, which will tell us who has the cash to survive the recession, and who will have enough cash to keep growing. 
Then we'll know if not just cannabis as a good, is recession-proof, but if cannabis as an industry is recession-proof.
Chart of the Week: Illinois Medical Cannabis Licenses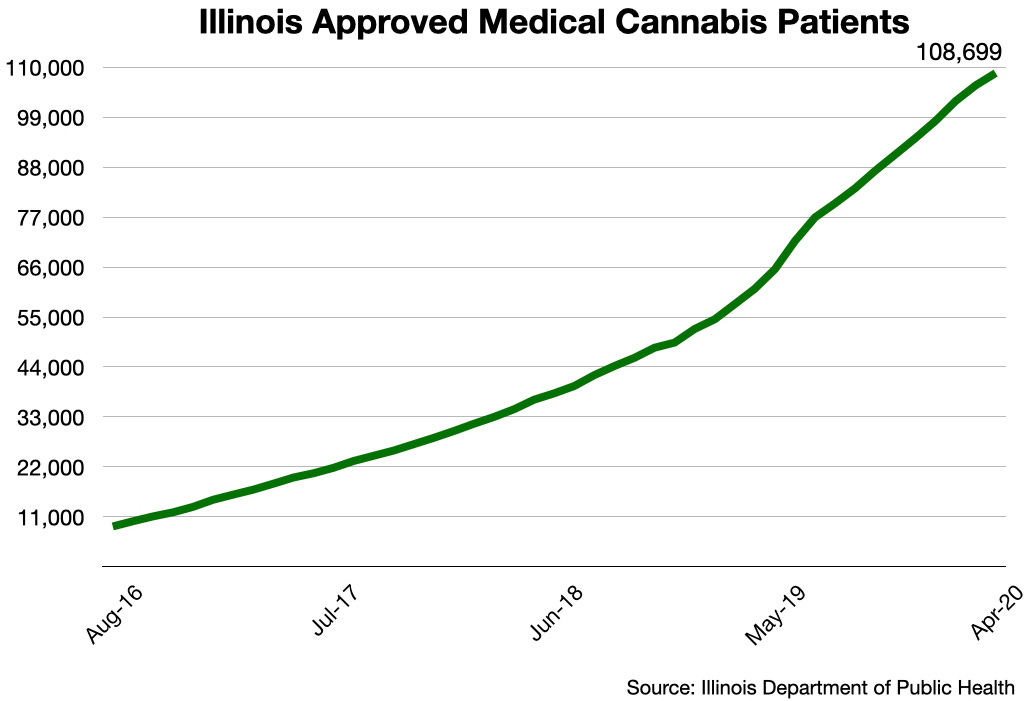 You'd think that since everyone can legally buy cannabis at adult-use stores, that individual medical use permits would have dropped off. But actually, the number of approved applications in Illinois has only increased since January, as last week the state announced it has approved 108,699 applications as of March 31, an increase of 6,180 approvals since January 31, maintaining a steady curve of increases since July 2019.
Meanwhile, since 2004, California has issued 109,307 medical use cards in total.
---

Spotlight Cannabis Business: ViceRays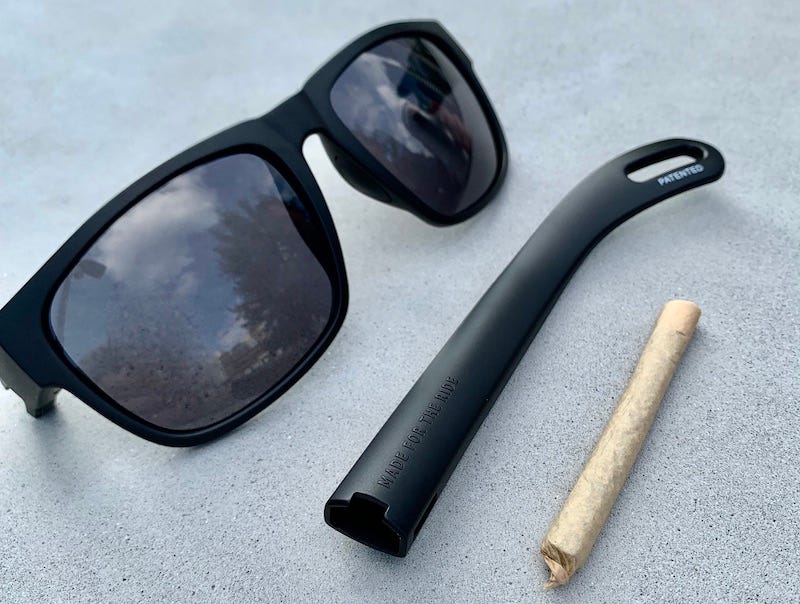 You don't need to hide your cannabis in Illinois any more, but for those circumstances when you want to be discreet, or are just looking for convenience, ViceRays are the first patented sunglasses designed with hidden storage chambers to carry pre-rolls or joints. It's a totally stress-free, discreet way to store your flower on-the-go: perfect for hikes, bike rides, days on the beach or water, music festivals, and wherever else there's a need to travel light and lit. ViceRays are Made for the Ride.
WIth steady month-to-month growth since the product launch five months ago (an unsolicited TikTok with Mark Cuban wearing them maybe helped), sales have been mainly direct-to-consumer online through ViceRays.com. Now, the Chicago-based ViceRays team is looking to expand to Illinois dispensaries for retail distribution.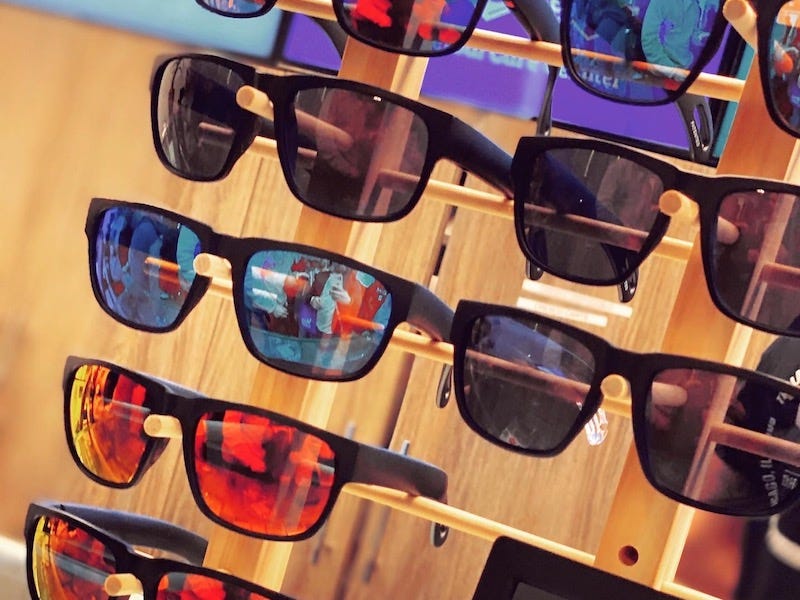 ---
Last Week's Illinois Cannabis News
Because it's a compulsory-obsessive habit, we scour the news across Illinois for what's going on with cannabis.
April 5
Two new recreational marijuana shops could be coming soon to River North [Chicago Tribune]
April 3
The first downtown weed shops get state approval [Crain's Chicago Business]
The coronavirus pandemic could slow growth of applications for Illinois medical marijuana cards [Chicago Tribune]
April 2
Think the stay-at-home order is affecting marijuana sales in Illinois? Think again. [Belleville News-Democrat]
April 1
Cannabis Dispensaries in Illinois Remain Open, Change Protocols During COVID-19 Pandemic [NBC5 Chicago]
Fairness is an issue in clearing low-level marijuana convictions [ABA Journal]
Weedman keeps calm [Chicago Reader]
March 31
Illinois Extends Application Deadline for Recreational Cannabis Business Licenses [Motley Fool]
Measuring success by lives impacted, not dollars earned [Forest Park News Review]
Delayed weed dispensary openings, curbside pot pickup: Coronavirus is forcing the state's marijuana industry to adapt [Chicago Tribune]
You might want a medical card [Chicago Reader]
March 30
Column: Waukegan social-distancing itself from marijuana revenues [Waukegan News-Sun]
Illinois House Rep Asks For Urgent Passing of Cannabis Home Delivery Legalization [High Times]
Cannabis Events Coming This Month
Normally, we'd round up some of the more interesting cannabis events coming up around Illinois. But for now, cancellations are coming fast and furious, so we aren't listing any events. We'll take another look next week. But also, if you're running an event and YOU'RE POSITIVE it's still going to run, drop a line to mike@grownin.com.