Craft Grower and other licenses get an extension, but Verano Holdings acquisition doesn't
Good Morning!
The big Illinois news is that over the weekend Gov. J.B. Pritzker extended application deadlines for craft grower, cannabis infuser, and transporter licenses to April 30. Craft growers and infusers had already seen one extension, from March 16 to March 30, whereas transporter licenses were due today, March 30. 40 craft grower licenses, 40 infuser, and an unlimited number of transporter licenses will be issued starting July 1. Then, starting July 1, 2021 up to 60 more craft growers and 60 more infusers could receive licenses.
Predictably, the news has attracted widely diverging views, depending on your position in the industry. 
Pam Altoff, Executive Director of the Cannabis Business Association of Illinois (CBAI), which represents most of the existing growers and dispensaries, applauded the Governor's weekend announcement and says she was working with his team.
"Nobody would have anticipated the stay-at-home order, but it did prohibit a lot of applications for companies incubating social equity companies from finishing their application process," said Altoff. "And in my estimation, that's where we needed to focus. If there's a choice on where to draw the line, we should be working to increase access rather than limiting it over a situation we had no control over."
Scott Redman, an attorney who is part of an independent craft grower applicant group, says moving the craft grower deadline a second time was unfair to applicants like his team, who he says was ready for the first, March 16, deadline.
"It's a process that if you're able to get it all done by the original deadline, shows your ability to accomplish a task," said Redman. "I know there were a number of teams that had problems securing property in time and getting the appropriate zoning sign offs. The current health crisis really didn't kick in, in terms of business restrictions, until nearly the first deadline [March 16]. Even when it did kick in, recorders' offices, title companies, and so on, were still functioning, and largely still are to some degree.
"A better reaction from the state should have been: If you don't have an important component, apply with an explanation and we'll send you a deficiency notice, but then show how the COVID-19 shutdown prevented you to get that component. And then you could provide that feature by the 30th of April," said Redman.
An additional month for an application is enough time to put together an entire application from a standing start, if you're well capitalized, says Redman. Altoff disagrees. "I think we'll still receive the number we were anticipating for our social equity applications," she said.
Chart of The Week: Are Public Cannabis Companies Getting Short On Capital?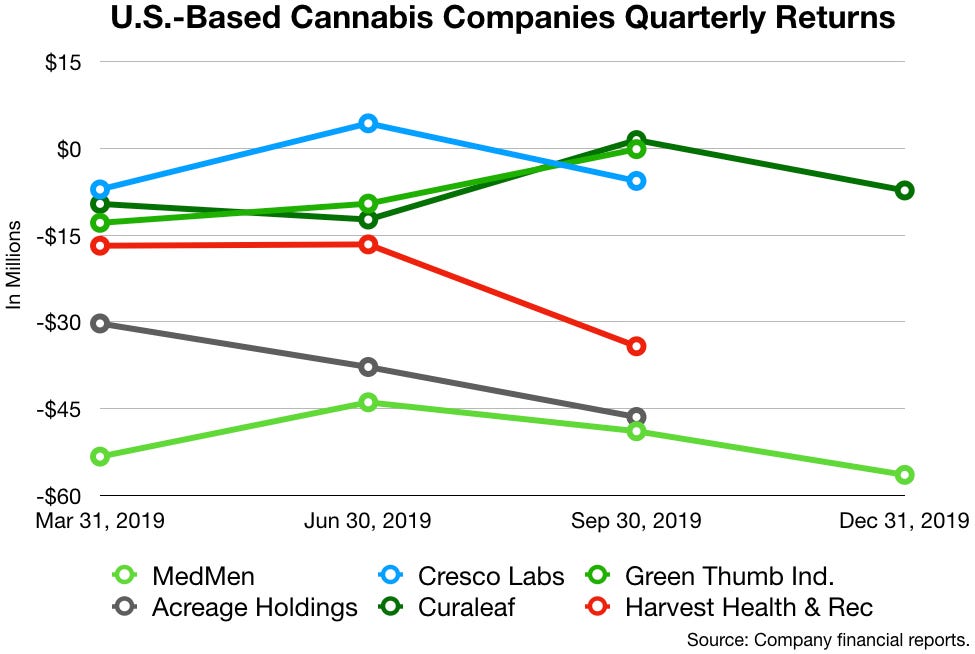 The other big Illinois news was the busted $850 million acquisition of Verano Holdings by Harvest Health & Recreation, the second big acquisition deal to fail, after PharmaCann's planned $682 million purchase of MedMen collapsed last October. Still on the bubble: Curaleaf's acquisition of Grassroots Cannabis for $875 million in stock and cash, announced last July but still not closed.
What's going on? Well, as you can see above, many U.S.-based public cannabis companies are burning through their cash piles pretty quick. It's annual financials season right now, so not everyone has reported yet, but Curaleaf just reported that its current assets more than halved since last year, from $313 million to $149 million. Harvest Health & Recreation reported $248 million in current assets last year, but through September 2019 it burned over $67 million from high operations costs, while December is most likely to be another big money loser.
Making things harder for U.S.-based cannabis companies is lack of access to debt capital. While regular American companies have been frantically drawing down on their credit lines, cannabis companies, hobbled by their semi-legal status, are forced to bank with state chartered banks, which tend to have less ability to lend than say Citibank, and often charge high interest rates for the legal risk of working with cannabis companies.
Since equity markets are not a good place to get more money these days, public cannabis companies have had to get creative, through private debt offerings, or real estate leaseback programs with REITs specifically created for the purpose. But those projects take time to close, unlike credit lines which are instantly accessible, or bank debt, which can take a week or two, if that, to close.
In short, every cannabis company is experiencing an extra intense pandemic cash crunch right now. No amount of Federal Reserve liquidity actions will likely impact cannabis, as CFOs clamp down on every out-going cash flow item they can find. 
Last Week's Illinois Cannabis News
Because it's a compulsory-obsessive habit, we scour the news across Illinois for what's going on with cannabis.
March 29
Cannabis license application deadline extended due to COVID-19 pandemic [ABC7 Chicago]
March 28
Illinois extends cannabis application deadlines [KFVS]
March 27
Legalizing pot deliveries gains momentum during coronavirus crisis [Sun-Times]
How recreational weed went from illegal to essential in 3 months [Sun-Times]
Why Green Thumb Industries' Marijuana Sales Soared in Q4 [Motley Fool]
Cannabis Has Gone From Illegal to Essential, Says U.S. Seller Green Thumb [Barron's]
Naperville's medical pot dispensary open with new precautions during stay-at-home order [Naperville Sun]
March 26
$850 million acquisition of Chicago marijuana company Verano Holdings called off [Chicago Tribune]
Coronavirus: Here's how marijuana businesses are adapting to COVID-19 [Evansville Courier & Press]
March 23
Yes, Illinois Cannabis Dispensaries Are Still Open Amid The Coronavirus Outbreak [St. Louis Public Radio]
Cannabis Events Coming This Month
Normally, we'd round up some of the more interesting cannabis events coming up around Illinois. But for now, cancellations are coming fast and furious, so we aren't listing any events. We'll take another look next week. But also, if you're running an event and YOU'RE POSITIVE it's still going to run, drop a line to mike@grownin.com.