The seedlings of a pandemic-proof industry, River North goes recreational, GTI prez resigns, Cresco leadership changes, Green in Chi hosts virtual fireside and more…

Cannabis companies are hiring and expanding online operations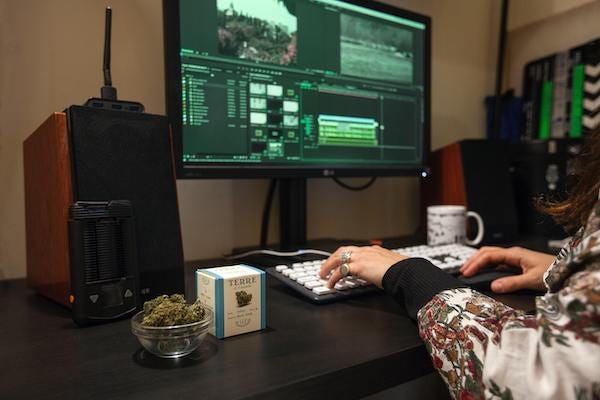 Where does cannabis fit in your professional portfolio right now? 
While hospitality, travel and a myriad of other industries await whatever comes next, consumers continue to purchase weed at a wicked clip while the Illinois-based companies who serve them expand their operations. 
Legal cannabis retailers in Illinois, while restricted due to product availability limitations and coronavirus physical distancing regulations, generated more than $110 million in sales during the first quarter 2020, including $36 million in March. 
Although inclusive of medical sales, that figure does not account for unreported illegal market transactions, where end users text their dealers orders with turnaround times considerably faster than Instacart. 
Chicago-based Cresco Labs made headlines this week, announcing plans to hire more than 250 staffers – many who up until recently worked at hotels and restaurants – to work at its many retail locations in Illinois and nationwide. Meanwhile, the publicly traded company, which also quietly refreshed its board and management team, is prepping a pop-up pot stand for online order pickup for recreational customers at its newly authorized River North location at 436 N. Clark Street.  
"The industry, while young, is still more nimble than most," said Mike Luce, co-founder of Chicago-based High-Yield Insights. "Companies are discovering different ways to get product to consumers that don't necessarily rely upon them coming into the store."
Nationally, Delaware lawmakers this week authorized cannabis delivery for medical dispensaries, joining Michigan as a state that expedited direct-to-consumer sales channels as a result of coronavirus physical restrictions. Earlier this year, Illinois State Representative Sonya Harper (D-6) introduced a bill to legalize cannabis delivery in Illinois. 
Cannabis community building goes virtual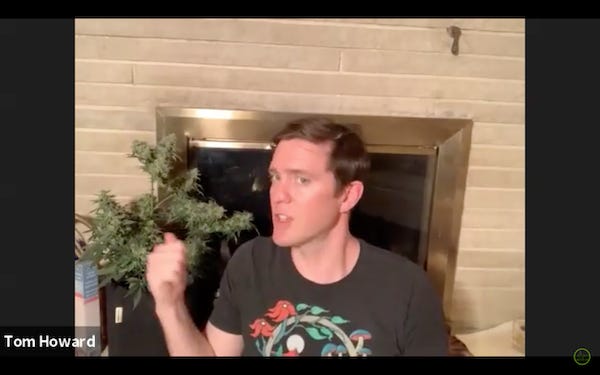 A literal fireside chat gets a Zoom makeover 
A week or so before things began to shut down in Chicago and all over, an organization called Green in Chi hosted several dozen cannabis professionals – and those aspiring to enter the industry – for networking and a panel conversation upstairs at a River North watering hole. 
The cannabis industry in Illinois, still in its embryonic stage, was rapidly mainstreaming. Professionals from industries as varied as consumer product goods, agriculture, financial services and artificial intelligence convened over appetizers, beer specials and rationales for entering an industry that was against the law when they were starting their careers. 
Now what?
"We wanted to do something to continue to connect with our followers," said event producer, Tony Paolella, who this week began a series of weekly video industry conversations that are accessible on YouTube, Facebook live and other digital channels. 
Like many professional organizations these days, Green in Chi is using the Zoom video conferencing platform to stream content. One notable distinction for cannabis content, reports Paolella, is that it can be blocked by platforms without any notice merely for being an accessory of what is still considered a crime in large swaths of the country. 
"If there are people logging in from Alabama or Mississippi during a live stream," Paolella explained, "it can be blocked because cannabis is illegal on a federal level." 
Grown In Nuggets: GTI prez steps down, Cresco chairman adds "executive" to title, Naperville approves sales tax as prelude to recreational sales approval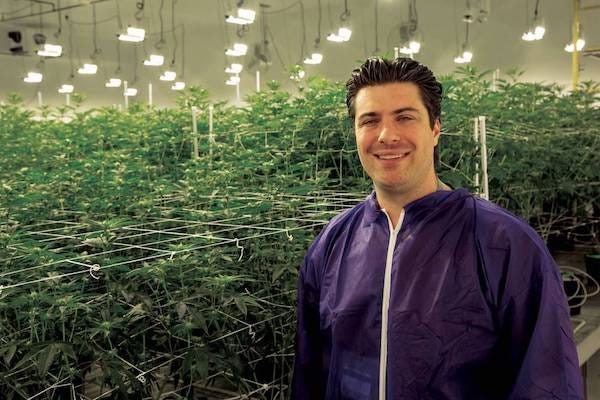 Tropicana Casino scion Armen Yemenidjian joined Green Thumb Industries in 2018 after it acquired his Las Vegas-based cannabis company for $290 in cash and stock. 
GTI management shakeup 
Cannabis entrepreneur and casino executive Armen Yemenidjian – son of former MGM Tropicana Casino CEO Alex Yemenidjian – resigned from his post this week as president of Chicago-based Green Thumb Industries. 
In 2018, Yemenidjian sold his Integral Associates, a Nevada-based multistate cannabis retailer, processor and merchandiser for $290 million in cash and stock. 
The press release announcing his departure noted that Yemenidjian wanted to spend more time with his family.  
Cresco Chairman Tom Manning appointed to Executive Chair
Former Dun and Bradstreet CEO Tom Manning, who joined the board of Chicago-based cannabis company Cresco Labs in 2016, this week was appointed as executive chairman presumably to take a more hands-on role with the organization. This move was announced in concert with new additions to the company's management team. 
In February, Cresco co-founder and president Joe Caltabiano left the company. 
"You have to fortify the traits needed for early-stage success with sound fundamentals, a scalable structure and a dynamic leadership team that can pull your organization to the next level," said Cresco CEO and co-founder Charlie Bachtell, in a press release.
Naperville approves cannabis sales tax
Three weeks after Naperville residents voted in a non-binding referendum to authorize recreational sales in the municipality, the town's city council voted OK'd a 3 percent sales tax, effectively baking it into law as early as July 1.
Naperville is expected to get two commercial dispensaries, to go along with its current medical dispensary owned and operated by Green Thumb Industries.
---

CBAI's Illinois Cannabis Industry Advocacy Recap
– First Deadline Extension for Craft Grow, Infuser, and Transporter Applications
The Illinois Department of Agriculture (IDOA) has extended the craft grower, infuser, and transporter licenses submission deadline to March 30, 2020 and will now only allow mail-in submission. Link here.
– Second Deadline Extension for Craft Grow, Infuser, and Transporter Applications
The Illinois Department of Agriculture (IDOA) has again extended the craft grower, infuser, and transporter licenses submission deadline to Thursday, April 30, 2020.
– IDFPR issues guidelines to Illinois dispensaries
The Illinois Department of FInancial and Professional Regulation sent official guidelines to Illinois cannabis licensees, including temporary allowance of curbside pickup for medical patients and caregivers, maintaining six-foot distance between individuals in the facility, remote submission of renewals, and secondary site applications. Link here.
– Cannabis businesses "essential" in Governor Pritzker's Stay at Home Order
Under Governor Pritzker's Executive Order 2020-10 (COVID-19 EO No. 8), licensed medical and adult use cannabis dispensaries and licensed cannabis cultivation centers are included under the exemption of "Essential Businesses and Operations". Link here.
– DCEO Cannabis Loan Application Deadline Extended
Aligning with IDOA's license application deadline extension, DCEO extended the application deadline for their cannabis loan program to 5:00 p.m. on Friday, April 24, 2020. Link here.
CBAI is working to accommodate and collaborate efficiently with Governor J.B. Pritzker's Office amidst the COVID-19 pandemic. The CBAI team is talking weekly, often daily, with the Governor's Administration regarding essential services. CBAI led advocacy efforts for allowing curbside pickup for medical patients and caregivers, and our members are committed to advocating for accommodations that will better protect our patients, customers, and employees during this uncertain time.
While cannabis businesses continue to operate under the Stay at Home order, day-to-day operations are far from "normal". CBAI members are acting as quick as they can to implement their own protective measures. Most member businesses now require all staff members to wear personal protective equipment (PPE) such as gloves and masks while working. CBAI is investigating further action on other PPE measures, while remaining cognizant of the PPE supply shortage for those working on the frontlines of hospitals, doctor's offices, and other medical facilities. 
Member dispensaries are also enforcing social distancing requirements, ensuring a 6-foot distance is kept between individuals inside and outside of the facility, with several dispensaries already having in place a physical protective barrier between point of sale operators and purchasers. 
CBAI members are also taking steps to increase surface washdowns and employee handwashing, and to enact stricter policies on employees coming into work if they may be sick. 
During this time, if CBAI member employees feel sick or exhibit symptoms of any illness, they are asked to stay home. This has in some cases resulted in added pressure on existing employees who may be asked to work overtime, a reduction in business hours to avoid over-scheduling employees, and store closures due to staff shortages. We have also seen CBAI members implement changes in employee shift schedules in an effort to limit exposure in the case that an employee was unknowingly affected or asymptomatic. CBAI continues to discuss staffing and operations needs during this time with the Pritzker Administration in efforts to bolster existing staff and to prepare for expansion.
The State Senate also formulated several industry specific working groups to address issues that need to be resolved prior to the end of session, June 1, 2020. Groups will meet via conference call until further notice. It is our understanding that the General Assembly is planning some type of legislative session, but at this time we are not sure how that will be accommodated. More here.