Leafwire's Chicago seed funding, John Challenger's advice to employers, where's the weed? and more…
In this Issue
Leafwire is a cannabis networking platform with Chicago seed funding
It's time for employers to update their policies on legal cannabis, says John Challenger
SAFE Banking Act stalls in congress while weed can't stay on shelves in Illinois
Cannabis Company Tracker: Cresco Labs, Green Thumb Industries, Pharmacann, Revolution Global 
Roll Call: Hanah Jubeh, Tony Hunter, Teddy Scott
Back of the newsletter: Where's the weed?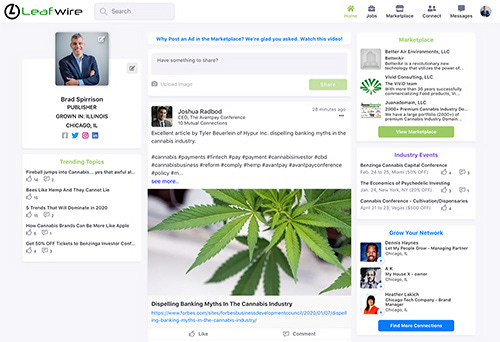 Leafwire is a cannabis networking platform with Chicago seed funding
If you are looking to network with existing and aspiring cannabis professionals in Illinois and beyond, spend some time surveying Leafwire. 
A hybrid of sorts between LinkedIn and Angel's List, with a national event calendar, marketplace and occasional sponsored email to members, Leafwire is a Denver-based startup founded by serial entrepreneur Peter Vogel.
Chicago-based venture capitalist Jeff Maters, the managing director of Network Ventures who previously served as one of the first investors for Pritzker Group Venture Capital, is a seed financier of the company.
After seven years with the Pritzker Group focusing on startup ecosystems and digital network and marketplace-oriented companies in New York and Los Angeles, Naperville native Maters raised a $3 million fund in 2016 to focus on investment opportunities between the coasts. He wasn't as much attracted to the cannabis sector as he was to Leafwire's market opportunity and founder (with whom he nearly invested in years earlier while with the Pritzker Group).
"The company is in a space where there are a lot of questions," said Maters, who recently turned 40, "but I don't think the genie is being put back into the bottle. Leafwire has a business model that I know, as well as an entrepreneur that I know and trust."
Leafwire, which raised $1 million last year, is a less complicated play in the cannabis sector as the company does not "touch the plant", which would bring a myriad of compliance and banking issues due to federal illegality of the product in many of its consumable forms. 
The company is one of many startups focused on "ancillary" cannabis industry opporturties that are raising venture capital. Local examples include Chicago-based Fyllo, a digital advertising platform that raised $18 million in October, and Chicago-based Leaf Trade, a wholesale ordering platform that raised $4.5 million in December in a round led by Hyde Park Angels.
While Maters continues to be "industry agnostic" and is not primarily focused on cannabis-related deals, he observes that other investors in his network are more inclined to take a look at deals in the normalizing industry than they were a few short years ago.
"I don't think there is any pushback as far as I know," he said.
Editor's Note: We tried using an alternate word to "seed" in the headline to this story, but no other option was as descriptive. 
It's time for employers to update their policies on legal cannabis, says John Challenger
If they have not done so already, Illinois-based companies would be wise to update their corporate policies as they relate to employee off-hours cannabis consumption, says outplacement and executive coaching expert John Challenger.
In addition to running Challenger, Gray and Christmas, Challenger is a board director of the Economic Club of Chicago, served as an advisor to the Federal Reserve Bank of Chicago and shares an obsessive enthusiasm for Wilco with Grown In: publisher Brad Spirrison.
Here is our email-based interview. 
Grown In: What advice do you have for company leaders who's employees are now legally able to consume cannabis in Illinois?
John Challenger: Cannabis is a controlled substance, like alcohol, so employers have a precedent for how to proceed. The general rule is that employees' time away from work is their own, and employers should not step in unless a problem arises.
While the lines have blurred between work life and home life with the advent of new technologies, the standard remains the same.
That said, when it comes to drug testing and background checks, employers may decide it's more beneficial to forego cannabis screenings, especially if that would otherwise eliminate a candidate. This could widen the company's pool of potential talent while saving the cost of testing.

Grown In: Talk about the balance between allowing for discretion (pot use should not need to be vocalized) and making sure employees clearly understand if and when consumption is permitted on their own time? 
Challenger: The best way to send a clear message to all employees is to establish a formal policy on the issue. Most companies already have drug and alcohol policies, but they will need to update it for legal cannabis.
In some cases, they may keep their policies the same and if a current employee tests positive for cannabis, if that is company policy, there may be repercussions. Others may decide cannabis use outside of the workplace does not violate company policy. Human Resources professionals can help employers through this process once it is decided how the company will proceed.

Grown In: To what degree does cannabis carry a negative stigma today, and how do you see its perception evolving over time?
Challenger: Cannabis still carries a higher stigma than alcohol, but as more jurisdictions permit recreational use and as time passes with this new legislation, we'll likely see even conservative businesses relax their policies to some degree.
However, while many employers allow alcohol at company-sponsored functions, it will likely be awhile before we see the same treatment of cannabis.

Grown In: As the cannabis industry becomes normalized in Illinois - already home to a handful of leading companies in the space - what lessons can this pioneering cohort of executives share with their peers in other industries?
Challenger: Business people in the cannabis industry are not any different than others who have tried to capture the potential of a new technology or market.
Of course, a small group of individuals will succeed and, like in any other gold rush, a larger number will fail. Many industries have to grapple with compliance issues and almost every industry is pivoting as consumer behavior changes and new technologies and markets emerge.

Grown In: Many in the Silicon Valley tech community and elsewhere believe there is a competitive advantage associated with cannabis consumption (not to mention LSD and mushrooms). How might Illinois businesses and professionals respond to this brave new world?
Challenger: Perhaps we'll begin to see large-scale studies on the effects of cannabis consumption on creativity and productivity as it becomes more widely accepted. Until then, employers should proceed with caution.
SAFE Banking Act stalls in Congress while weed can't stay on shelves in Illinois 
The biggest inhibitor to the commercial growth of cannabis-based industries at the local, state and federal level is that marijuana is classified as a Schedule I Substance by the United States Drug Enforcement Administration.
This means that very, very few banks are willing to risk their charters to work with companies in the cannabis trade, particularly those that "touch the plant" via cultivation, processing, merchandising or any combination thereof.
Largely supported by banking lobbyists, the SAFE Banking Act is among many efforts in congress - endorsed by members from both sides of the aisle - that could reclassify marijuana so that banks can enter what could become a trillion dollar market.
Leading and mainstream executives and service providers from virtually every other industry are waiting for the banks to jump into the sector before investing in what clearly is an attractive expansion opportunity.
While there was some momentum for the SAFE ACT in 2019, The American Banker says prospects for passage this year are "dim". Late last year, Senate Banking Chairman Mike Crapo, said he was against the Act after signaling earlier that legislation to liberalize the law was still in play. Since then, if you haven't been paying attention, our congress impeached the president. Further, Trump last month said he wouldn't protect state approved medical businesses from federal drug law enforcement.
So, while nobody should attempt to predict the future, it seems as if cannabis industry banking normalization will likely remain in limbo for the foreseeable future.
Juxtapose that with Illinois, where $11 million worth of cannabis was sold within the first week of adult-use legalization. A lot more would be sold if inventory were available, which was not the case throughout the first week for most dispensaries. There is no inventory because merchandisers need to purchase from cultivators based in Illinois. Due to Schedule I classification, cultivators and retailers are not able move product across state lines.
So, while cultivation companies - which in many cases also own dispensaries - are feverishly working to generate supply, empty shelves in Illinois could be the norm rather than the exception in the weeks and months ahead.
The assumption is that if/when cannabis becomes declassified from Schedule I, municipal, state and federal governments can collaborate more effectively with the private sector. This would support young companies who can't keep product on the shelves and have no traditional bank in which to deposit the money they are able to collect.
Industries could flourish and tax revenue could be allocated toward social services that address the harm associated with cannabis consumption. 
Finding a common sense solution to this issue may be a lot to ask. But at least the federal government is still committed to protecting us from incoherent thinking.
Not yet subscribed to Grown In: Illinois? Email brad@grownin.com to receive our weekly newsletter. 
Cannabis Company Tracker: Cresco Labs, Green Thumb Industries, Pharmacann, Revolution Global 
Cresco Labs
Cresco Labs CEO Joe Caltabiano explains to cheddar that "preparing for a 10X increase in business is something that all industries would struggle with" in this 3-minute video interview. He also discusses the need to give employees a break after many worked 5 consecutive 14-hour days to serve consumer demand.
Meanwhile, residents in Rockford are complaining that the company's Sunnyside dispensary in that town is a "nuisance".
Green Thumb Industries
Ben Kovler, CEO of Green Thumb Industries, tells Bloomberg that Illinois is part of "Cannabis 2.0." which began as a "tightly regulated well orchestrated medical market." He added that a lot of the hiccups and black market commerce that persisted in the first wave of states to legalize medical and recreational cannabis should not be repeated in Illinois.
PharmaCann
Like Cresco Labs, which operates Sunnyside dispensaries, and GTI, which sells cannabis at its Rise stores, Pharmacann also gave workers at its North Aurora Verilife dispensary the day off.
According to the Daily Herald, employees at the company's Oak Park-based corporate office also filled in for shifts to meet demand.
Revolution Global
Revolution Global CEO Mark de Souza talked with cheddar in this 7-minute video about the consumer protection framework that legal weed provides so users can have a better understanding of what they put into their bodies.
Roll Call: Hanah Jubeh, Tony Hunter, Teddy Scott
Hanah Jubeh – Political consultant and entrepreneur
Longtime political consultant and advisor to the Chicago Federation of Labor (AFL-CIO) Hanah Jubeh is also an entrepreneur in the cannabis industry. Along with former alderman Ameya Pawar and others, Jubeh is a partner in what Block Chicago describes as a "weed-infused spa" they hope to open at 1900 West Chicago Avenue. In addition to advising Pawar on his recent bid for Chicago City Treasurer, Jubeh - who the Sun-Times describes as "one of the most influential behind-the-scenes Democratic operatives in Chicago - has also advised Chris Kennedy and Alexi Giannoulias in recent years.
Tony Hunter – Chair, Revolution Enterprises
As a former publisher of the Chicago Tribune in a post-print age, Tony Hunter become accommosted to spinning up and commercializing new business ideas. He assumedly is doing the same as chair of Revolution Enterprises, an Elmhurst-based multi-state cannabis operator and merchandiser. In addition to growing, processing and selling the plant, Revolution also has a consulting arm that advises others in the space on issues ranging from operational and marketing support to legal compliance.
Teddy Scott – Cofounder, PharmaCann
Teddy Scott stepped down from serving as CEO of PharmaCann in 2019, shortly before the Oak Park-based company $682 merger with MedMen collapsed. Scott founded PharmaCann in 2014, with minimal experience in the cannabis industry. However, his PhD in molecular biology and corporate legal background presumably informed PharmaCann's speed to market. Scott sits on the board of PharmaCann, which operates dispensaries and production facilities in multiple states.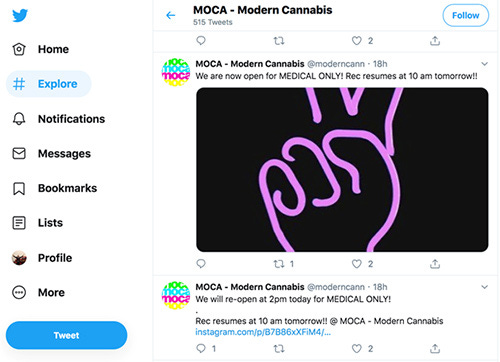 Back of the newsletter: Where's the weed?
As widely anticipated, from a supply and demand standpoint, the debut of recreational cannabis sales in Illinois had a few kinks.The combination of perhaps larger than expected consumer demand combined with finite inventory at the onset forced many dispensaries in the state to close throughout the week. 
From a macro level, the governor and legislature that made the law a reality opted to go live on January 1, 2020 knowing there would be supply shortages and logistical hiccups.
That's cool.
As is the case with software and other industries, an organization can release a minimally viable offering into the market and address problems as they exist. Learn. Iterate. Improve. As far as we can tell, this is what is happening.
What is unclear are the conditions that allow some dispensaries to remain open while others do not. It could be anything - location and traffic, staff expertise, differences in operational efficiencies.
One question that will inevitably arise is how dispensaries that also cultivate and process the product they sell are working with independently-owned businesses who rely on that product to keep the doors open. To what degree will the state keep tabs on this? 
Stay tuned.