Labor unions flex muscle in cannabis while medical cannabis sales bounce back

Labor unions making bold moves to broadly organize cannabis industry
The United Food and Commercial Workers Local 881 has filed for an election to organize workers at Cresco Labs Sunnyside Dispensary in Lakeview. The organizing move is part of a series of actions by a group of allied unions working to unionize cannabis workers across Illinois.
"We think that in this health crisis, workers will want to give voice to their concerns. These workers still have some working conditions imposed on them, and that's why we've seen a surge from workers in dispensaries and cultivation centers going to the unions," says Zach Koutsky, political director of UFCW 881.
Directed by the national American Federation of Labor-Congress of Industrial Organizations (AFL-CIO), four unions have banded together to create the Cannabis Union. In Illinois the UFCW, through the Cannabis Union, successfully organized a Joliet Cresco cultivation facility in January, while the Teamsters failed to win an organizing vote last December at a Green Thumb Industries cultivation facility in Rock Island.
The Cannabis Union in Illinois is comprised of UFCW 881 for retail, growing, packaging, and front office work; Operating Engineers 399 for operations workers of cultivation and craft grow facilities; Teamsters Joint Council 25 for transportation; and SEIU Local 1 for security contractors.
Koutsky claims about 1,700 applicants for dispensaries have signed labor peace agreements with the Cannabis Union, about 43% of the total 4,000 applicants. Also, Koutsky claims over 160 craft grow and infusion applicants also have signed labor peace agreements.
There's no question that labor unions are making strong moves to organize cannabis, both by organizing worker representation elections and by obtaining an extraordinary number of labor peace agreements with potential dispensaries that haven't even opened yet.
But in a time when labor organization is on a downswing nationally, why would applicants willingly give up workers to union representation?
It's a new industry," says Anton Seals, Jr., who is assisting a series of social equity cannabis applicants and craft grow teams, "Who are even judging these applications? Who are reading these 300-page applications, and how are they weeding them out?"
As Seals suggests, the application review process for the next round of dispensaries, cultivation centers, and infusion businesses has pretty much been a black box. The state has not announced a clear process. While there are points awarded for including various elements, like adding a social equity ownership component, there's still a lot of grey area, Since so many applicants will be maximizing their points, how exactly will they be judged once they all have all the points possible?
"I have a gut hunch, I think part of it is because of the application process. If companies tell the state they will do a labor peace agreement, they might get help with the application process," says Amit Bindra, a labor law attorney at The Prinz Law Firm.
"My sense is that businesses think it is worthwhile to do whatever it takes to get a license. For that reason, if they think [signing a labor peace agreement] is going to be a benefit to help them open their business, they will do it," says Bindra.
Meanwhile, Koutsky wants cannabis business owners to know that the Cannabis Union is open to discussion.
"We don't represent the owners, investors, we represent the people on the front line," he says. But, "we're willing to have flexible contracts as the industry matures, as our knowledge in Illinois matures."
Chart of the Week: Illinois Medical Cannabis Sales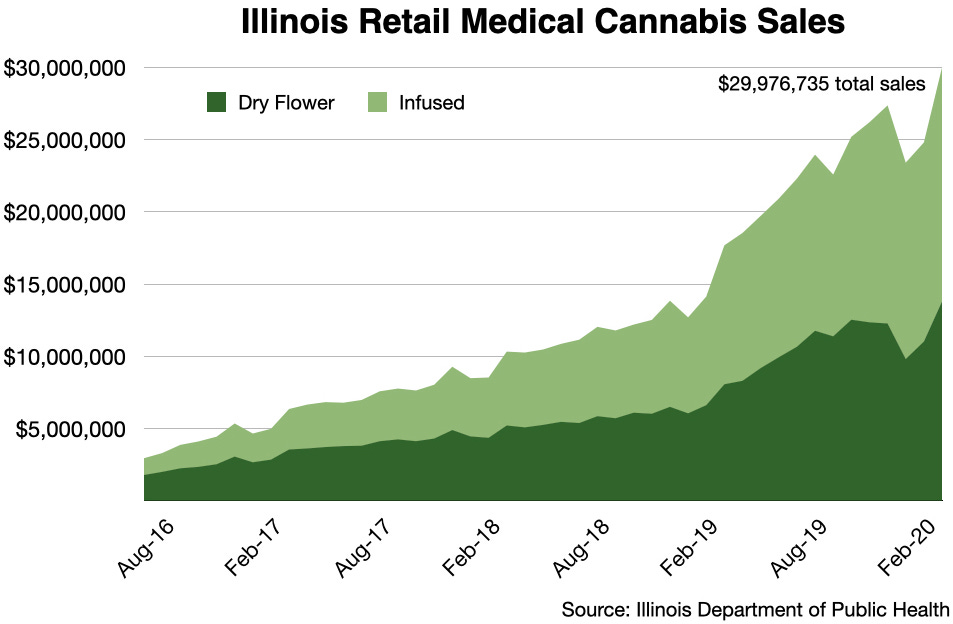 Despite the consternation of sales declines in January and February, March's total sales were not only up, but seemingly following the same growth curve established in 2019. And also, it seems that the winter dip of 2020, matches a similar dip in 2019. 
---

Spotlight Cannabis Business: NuMed Dispensaries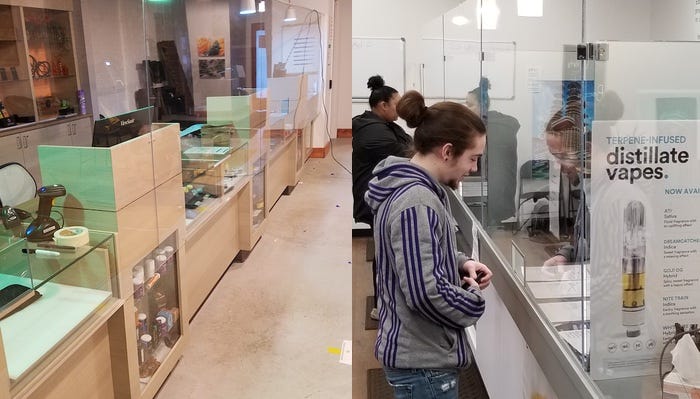 NuMed's Chicago (left) and East Peoria (right) dispensaries are now fitted with clear barriers at points of sale. (Images from NuMed)
With a trio of stores in Urbana, East Peoria, and Chicago's Lincoln Park, NuMed Dispensaries has been putting an emphasis on customer and worker safety since the arrival of COVID-19. "We have plexiglass covering POS counters in all places, which gives our customers and employees a great feeling," says NuMed's Principal Officer Keith McGinnis, and the stores have reserved their first open hours, 11:00 a.m. to 1:00 p.m., everyday for medical patients only while also encouraging all customers to order online for pickup. "Obviously your processing time is longer, but it gives people a comfort level," McGinnis says.
NuMed has been working to build strong community relationships as well, by sponsoring an annual fundraiser in Urbana, "Red Hot Winter", with the local humane society, and working with the East Peoria Police Department during the holiday season to deliver gifts to needy children. But for this year's big cannabis holiday, NuMed plans to celebrate a bit differently: "For Sunday and Monday's in April we're closed to give our employees a break. We don't want to deal with [the danger of] huge crowds on that day anyway," says McGinnis. "But, the Saturday before we'll be offering a drawing at our stores."
Store Locations: 1308 W. North Ave., Chicago; 504 Riverside Dr., East Peoria; 105 E. University Ave., Urbana
Website: https://numed.com
---
Last Week's Illinois Cannabis News
Because it's a compulsory-obsessive habit, we scour the news across Illinois for what's going on with cannabis.
April 11
Marijuana dispensaries deemed 'essential' but ineligible for federal stimulus [ABC7 Chicago]
April 9
Wife of clout-heavy builder pushes to ban all pot businesses from her Gold Coast neighborhood [Chicago Sun-Times]
Naperville mayor upbraids councilwoman for 'inappropriate' remarks to council members over their support of marijuana sales [Naperville Sun]
April 8
Cresco plans to hire 250 in state for weed shops [Crain's Chicago Business]
Illinois harvests 2.27M pounds of hemp [Alton Telegraph]
Give your lungs a breather: Make cannabutter [Chicago Reader]
Naperville council OKs 3% tax on recreational marijuana should sales be approved in future [Naperville Sun]
April 6
How a curveball by the state created two weed winners downtown [Crain's Chicago Business]
April 5
The Illinois Cannabis Market Is Strong, But Shortages Will Persist For Months [St. Louis Public Radio]
Cannabis Events Coming This Month
Normally, we'd round up some of the more interesting cannabis events coming up around Illinois. But for now, cancellations are coming fast and furious, so we aren't listing any events. We'll take another look next week. But also, if you're running an event and YOU'RE POSITIVE it's still going to run, drop a line to mike@grownin.com.