Illinois cannabis companies can now use industrial hemp, Naperville's next move, dosing over dinner with Jim Belushi and more…
Cannabis deemed essential as Illinois Department of Agriculture loosens industrial hemp restrictions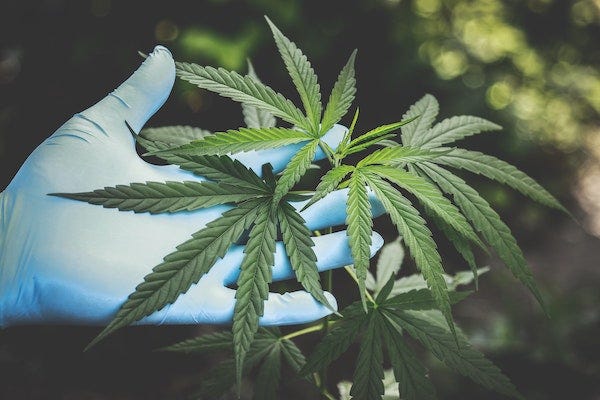 Illinois cannabis companies can now call on approved industrial hemp farmers to help meet growing demand.
Zoom. Toilet paper. Canned goods. Cannabis. 
Each one has proven to be an essential staple as we all settle into physical distancing restrictions. The State of Illinois has acknowledged our new essentials by allowing dispensaries to remain open while also allowing cultivators to use industrial hemp as an ingredient in THC-infused products. 
The March 23 policy of the Illinois Department of Agriculture's Bureau of Medicinal Plants and approved by Governor J.B. Pritzker, allows inventory-strapped cultivators to purchase industrial hemp from approved farmers to be used "as an ingredient in cannabis-infused products". 
Farmers all over the state who are currently carrying an excess of the non-intoxicating part of the plant now have a market in the form of cultivators, who in most cases also process and retail cannabis. Those vertically-integrated cannabis companies now have more space and ingredients to meet the surging demand for anything with THC. The new policy is scheduled to last through October.  
"This policy will offer a new market to the hemp growers in Illinois, while at the same time freeing up grow space for THC specific plants in the cultivation centers," said Jeff Cox, Bureau Chief for Medicinal Plants at Illinois Department of Agriculture. "Additionally, the hemp processors gain a market to sell extracted hemp oil. We believe this will be a win-win-win for all stakeholders."
From illicit to essential in a matter of months 
Across the country, multiple states where medical cannabis is legal are giving dispensaries the same "essential business" status as grocery stores and pharmacies. New York Governor Andrew Cuomo, who also has a bit on his plate, still hopes to legislate legal recreational use this year. 
Dispensaries in Illinois and across the country are reporting consumer demand comparable to the opening weeks of legal status, as well as April 20th, the 420 holiday for cannabis enthusiasts. 
Serving this demand, however, is challenged by the finite number of people allowed in stores due to social distancing restrictions, as well as by employees who for a variety of reasons are no longer showing up for work. 
Up until March, any workers whose job involves touching the plant were required to wear a state-issued badge. However, COVID-overwhelmed state agencies have put a hold on issuing new badges. So, in response, the state is easing requirements to allow for digital and printed certification. Cannabis companies are also lobbying for employees in their other departments to be allowed to temporarily fill in to meet demand. 
Consumers still want flower 
Despite potential health risks for those who smoke or vape anything during the time of CoronaVirus, flower is and will likely remain in demand for the foreseeable future. 
Since adult-use consumption became legal in January, most of the flower in Illinois was reserved for users with a medical card. Cultivators are expected to have more flower available beginning mid-year to accommodate everyone. 
Until there is "an equilibrium" in place that balances supply and demand, don't expect an immediate migration of flower enthusiasts to edibles, elixirs and other lung-friendlier form factors.
"We will follow the market and let demand for products and consumer choice drive us," said one industry observer. 
Capital remains hard to come by
Despite a significant increase in the stock prices over the last week for Illinois' two publicly traded cannabis companies – Green Thumb Industries and Cresco Labs – equity capital for industry businesses is scarce in the current economic climate.  
"Capital is both defensive and opportunistic," said David Friedman of Panther Capital, which has investments in multiple cannabis companies. "We are trying to figure out what companies to backstop and what companies we let fail."
Vertically-integrated plant-touching companies will continue to sell off property and assets to cannabis-focused Real Estate Investment Trusts, including Chicago-based NewLake Capital, in order to maintain operations and meet increased demand. Last month, NewLake entered into a $3.4 million purchase-leaseback agreement with Chicago-based PharmaCann. In January, Cresco Labs signed a $10.5 million purchase-leaseback agreement with New York-based Innovative Industrial Properties. Industry executives and investors queried by Grown In anticipate more of these type of transactions in the near-term. 
Companies in the software, manufacturing and professional services sectors that were created to sell things to licensed cannabis companies have their own set of issues. While they have the ability to raise or borrow money from more sources, their primary customers don't have as much money to spend on them. 
 What's an investor to do? 
"Opportunistic capital is a double-edged sword," said Friedman. "From chaos comes opportunity. But profiting off of the desperation is predatory, so ethical issues are swirling around the capital markets and nobody wants to step out and lead that line of opportunity." 
Opt Out Naperville calls for another voter referendum to approve recreational sales
Citing decreased voter participation in a non-binding referendum that supported recreational cannabis in Naperville, Jennifer Taylor of Opt Out Naperville is calling for a do-over referendum in November. 
"It was a close vote and we were outspent 20 to 1," said Taylor, a former state's attorney who grew up in Naperville. She unequivocally supports the medical use of cannabis but believes legal pot shops for everyone goes against Naperville's "family-friendly brand." 
While Taylor declares she raised approximately $4,000 for Opt Out Naperville, campaign spending by various industry and individual interests in support for the referendum was many multiples higher, Taylor conjects. Chicago-based Green Thumb Industries has state approval to open a Rise recreational dispensary, but was blocked by the community last year. 
Although more than 53 percent of Naperville voters expressed their support for recreational cannabis sales, Taylor claims the results were skewed. She believes many older voters that would have voted against recreational sales did not make it to the ballot box due to CoronaVirus-related concerns. She also claims a November general election, with a full complement of both Democratic and Republican voters, would favor her side of the debate.
As it stands, Naperville Mayor Steve Cherico is moving ahead with plans to approve recreational sales in the municipality.  
'The next step," he wrote in an email to Grown In, "is to direct staff to notify the Illinois Department of Revenue that we wish to preserve a tax rate of 3% on adult use cannabis and to ask staff to bring back recommendations for ordinance changes, zoning recommendations and rules associated with the cannabis industry to processed through the planning and zoning board and voted on by the city council. The majority of the city council committed to honor the results of the referendum and I believe they will fulfill that pledge."
Taylor said if Cherico and the city council proceed without another referendum, the voters will ultimately pass judgement if and when they seek reelection. 
For the time being, the closest recreational dispensary for Naperville residents is Verilife in North Aurora. 
"Aurora has always had a reputation for casinos, gambling and being a go-to area for this kind of thing," said Taylor. "Let Aurora keep this reputation and we keep ours." 
Grown In news and nuggets and NFL veteran Kyle Turley on the life-saving properties of weed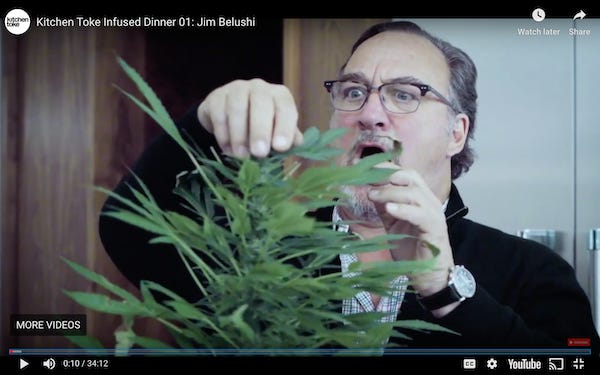 About Last Night's cannabis infused meal with Jim Belushi.
Kitchen Toke's dinner with Jim Belushi
Chicago-based Kitchen Toke is a multimedia company focused on the art and science of cooking with cannabis. The company's founder Joline Rivera recently enjoyed conversation and a "responsibly dosed" meal with Jim Belushi. Catch the long-form video here. 
Belushi along with Christie Hefner and others are stakeholders in Oregon-based Belushi's Farm, which cultivates cannabis and merchandises them via Blues Brothers and other iconic brands. When asked about how he intends to interweave acting with cannabis entrepreneurship moving forward, Belushi explained to Kitchen Toke:
"I combined both of them. I still like to act. I still like to write. And I still like to direct, produce, and all that kind of stuff. Why don't I do a reality show around cannabis and farming, so I can do both things at once? And so that's what I've done. I'm acting like a farmer."
Cannablurbs deep dive with leaf.trade
Based in Chicago and published by entrepreneur and cannabis industry strategist Colin Keeler, Cannablurbs is an insightful and entertaining look at market trends and change-makers. 
Keeler recently spoke with Michael Piermont, co-founder and chief revenue officer of Chicago-based Leaf Trade, about what it's like serving 100 percent of the Illinois-based dispensaries with his company's wholesale distribution software platform. Leaf Trade late last year raised $4.5 million in venture capital from Chicago-based Hyde Park Angels. 
Read the full article here and subscribe to Cannablurbs here. 
NFL veteran Kyle Turley spreads claims in USA Today that cannabis combats COVID-19
While organizations like the American Lung Association beg to differ, former NFL All Pro and current daily toker and dispensary owner Kyle Turley shares with USA Today why he believes cannabis can be part of the cure for coronavirus.
The Science behind this is real," he said. "Are we going to go into quarantine? Or are we going to live? And if you choose cannabis, I'm here to tell you that you're going to live."
Thee is no medical evidernce that cannabis products cures or treats COVID-19. Read the full story on Turley's claims here.