Cannabis and bankruptcy, Fyllo acquires CannaRegs, IL license application FAQs and more
In this Issue
Financially reeling MedMed Enterprises working to stay afloat without access to bankruptcy protection 
Fyllo acquires CannaRegs for $10 million
Subscribe to Grown In: Illinois
Illinois Agriculture department responds to questions on upcoming license applications
Quick video: Documenting Opening Day for Legal Cannabis in Chicago
Illinois Cannabis Company Tracker: Revolution Global, Cresco Labs Green Thumb Industries
Roll Call: Bethany Gomez, Steve Fix, Joline Rivera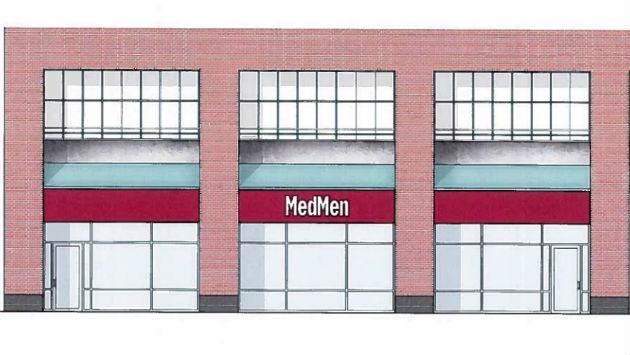 Financially reeling MedMed Enterprises working to stay afloat without access to bankruptcy protection 
A high-flier in the first wave of commercial cannabis companies that went public in 2018 at a $1.6 billion valuation, Culver City, Calif.-based MedMen Enterprises today is quickly running out of cash.
The company - which is financially backed by Chicago-based Wicklow Capital and operates dispensaries in Evanston and Oak Park - is attempting to renegotiate payment terms and schedules with antsy vendors. 
Due to its somewhat taboo line of business, it is unlikely that bankruptcy will be an option. The federal government, it appears, is not inclined to offer Chapter 11 reorganization protection to companies that break federal law."
Because cannabis is illegal under federal law and because bankruptcy can't be used to facilitate federally illegal activity or to administer assets that can't be possessed or sold under federal law," explains Chicago-based attorney David Morris, "bankruptcy protection has generally not been available to parties that 'touch the plant' (marijuana growers, processors, sellers and transporters) and the parties that own them."
Morris, a partner with Fox, Swibel, Levin & Carroll, LLP, added that cannabis companies seeking protection from vendor claims may file "an assignment for the benefit of creditors", although this does not offer the same "fresh start" protections as as Chapter 11 reorganization, which gives the company time to restructure.
Last October, MedMed terminated its planned $682 million all-stock acquisition of Oak Park-based PharmaCann, which was founded in 2014 and according to CrunchBase has raised $42 million to date in venture funding.
As part of that termination, MedMen received the right to a cultivation center in Hillcrest (which is still being operated by PharmaCann), a dispensary in Evanston, additional licenses to cultivate cannabis in Illinois and Virginia and a separate license sell in Illinois in exchange for a $21 million line of credit extended to PharmaCann.
Today MedMen is attempting to sell assets - including facilities, product and valuable licenses in multiple states - in order to pay its vendor bills and keep operations afloat. Late last year it laid off 90 employees nationwide."
With a 15:1 ratio of liabilities against quarterly revenue, MedMen needs to find some way to raise funds, and then possibly strike deals to remove liabilities," explained Chicago-based venture capitalist Michael Gruber, a partner with Northbrook-based Salveo Capital, which focuses on the cannabis industry. 
There is speculation around town and in social media that PharmaCann, which in November was awarded rights to open four city dispensaries, will want to reclaim assets it gave up to MedMen. Jeremy Unruh, PharmaCann's director of public and regulatory affairs, would not comment when asked about MedMen's current situation.
Wicklow Capital, the family office of Dan Tierney, co-founder of electric financial trading company GETCO, has a significant position in both PharmaCann and MedMen. Last month, according to Crunchbase, Wicklow invested $27 million in MedMed. A Wicklow representative would not comment on MedMen.
As the fledgling cannabis market absorbs MedMen's financial predicament, vendors are figuring out how to salvage the most cash and value from their entanglements with the company. Concurrently, opportunists conspire to pick up valuable assets for pennies on the dollar.
Executives as well as legal and financial service providers to commercial cannabis companies, which Politico predicts will operate in 40 U.S. states by year-end, are witnessing state and national government attempting to figure out how to apply national banking law to a product still considered illegal by the federal government.
"This is a developing area of the law that we are monitoring closely," said Morris.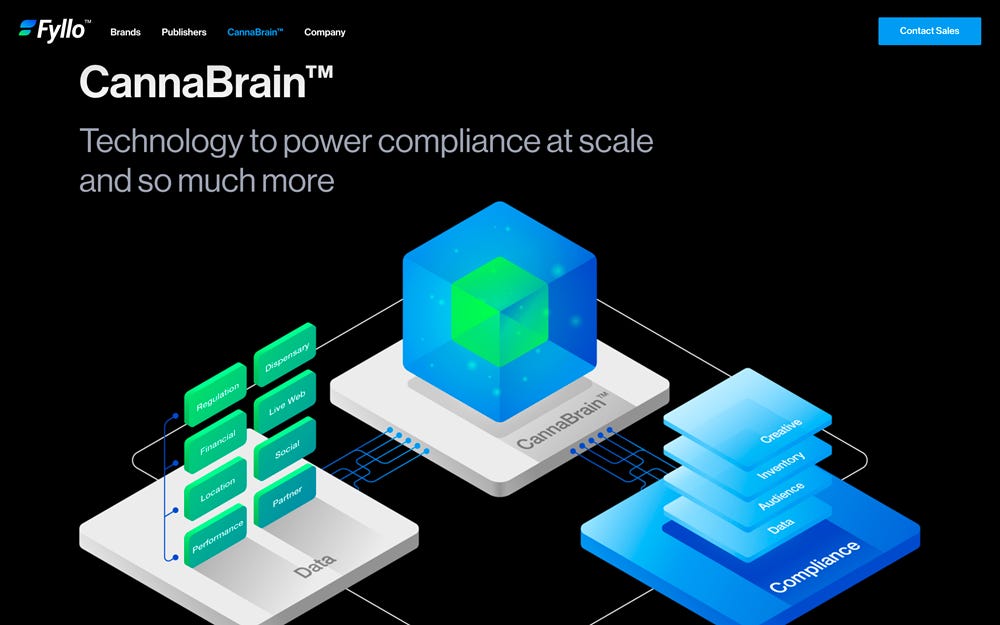 Fyllo acquires CannaRegs for $10 million
Chicago-based cannabis-focused marketing technology company Fyllo, which launched and raised $16 million in venture funding last year, is in acquisition mode.
The company last week acquired Denver-based CannaRegs for $10 million in stock and cash. Fyllo now has 70 employees, including 30 former CannaReg staff that will continue to work in Denver. CannaRegs founder and CEO Amanda Ostrowitz, will become Fyllo's chief strategy officer.
Presumably high on the list for Ostrowitz is to integrate CannaRegs' extensive database of municipal, state and national cannabis law regulations within Fyllo's "compliance as a service" software platform.
Chicago-based serial entrepreneur and venture capitalist David Friedman was a seed investor in CannaRegs through his Panther Opportunity Fund. That cannabis-focused fund is an investor in 21 companies, including Chicago-based VividGro, which uses NASA-developed technology to create more efficient lighting conditions for growers.
"(Cannabis investing and entrepreneurship) is still the wild west," said Friedman, who entered the industry in 2014 after starting companies in the software and financial services industries. "I operate best without borders. I love chaos, and then letting chaos turn to order. Then I get out and let other people follow the rules."
Subscribe to Grown In: Illinois
Join the thousands of members of the Grown In: Illinois community and subscribe to our weekly email newsletter. 
This is the seventh edition, which started on December 3, and your feedback, input and incredible willingness to share this information with others is appreciated.
Please continue to do so and encourage friends and colleagues who are investing, working within or following the cannabis industry to subscribe.
Anyone forwarded this newsletter is encouraged to subscribe, and stay tuned for additional digital and real world opportunities to learn more about commercial cannabis communities in Illinois and beyond.
Sincerely, Brad Spirrison
Illinois Agriculture department responds to questions on upcoming license applications
The Illinois Department of Agriculture this week published published answers to frequently asked questions related to applying for craft grower, infuser and transporter licenses in the state.
Applications for each license are $5,000 (or $2,500 for social equity applicants). License fees (which are halved for social equity applicants), are $40,000 to grow, $5,000 to infuse and $10,000 to transport.
While the state response offers considerable clarification, not all questions were answered.
"My takeaway on the FAQs is that they don't help answer the critical zoning question for many applicants, says Chicago-based attorney Scott D.H. Redman, also a principal at cannabis application consulting firm, Recann Advisory Group, LLC, "which is whether or not an applicant needs to actually have its special use approval in hand or not."
Applications will be accepted beginning on February 14.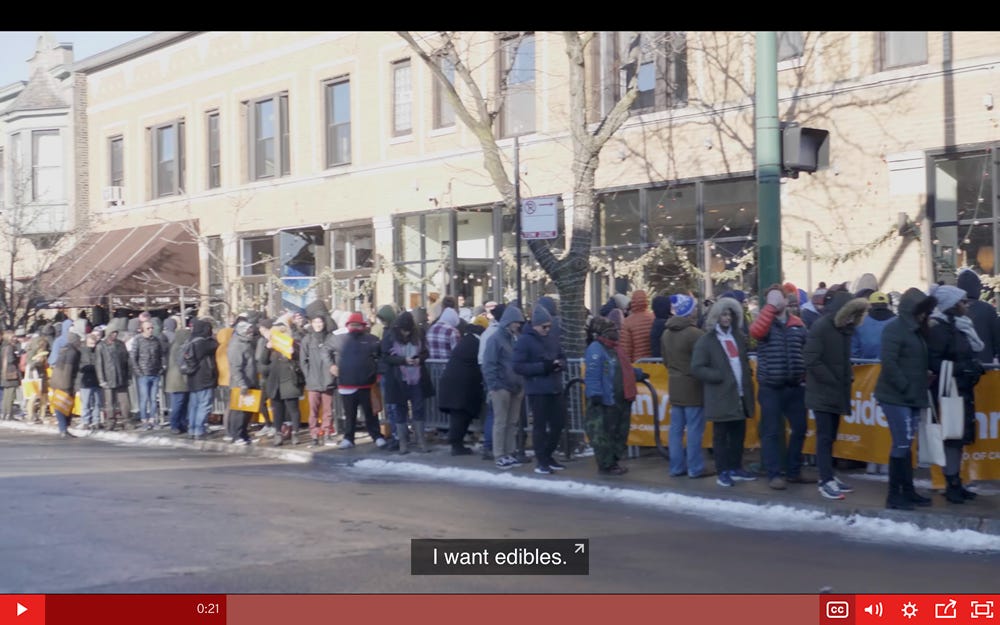 Quick video: Documenting Opening Day for Legal Cannabis in Chicago
Salvi Media, a video production agency based in Ravenswood, chronicled a bit of history on January 1. 
This 90-second "man on the street" video curates a few colorful conversations from those who stuck it out in line for hours at the Cresco Labs Sunnyside dispensary in Wrigleyville. 
Salvi Media, started by Chicago entrepreneur, investor and former Notre Dame safety Christopher Salvi, is producing longer-form documentaries to focus on the societal transitions communities across Illinois and other states are making due to the normalization and decriminalization of cannabis consumption. 
Illinois Cannabis Company Tracker: Revolution Global, Cresco Labs Green Thumb Industries
Each week, Grown In: Illinois shares a thing or two about  the largest cannabis companies in the country that just so happened to be based in The Land of Lincoln.
ICYMI! Last week we showcased how the Elmhurst-based multi-state grower, processor and retailer of commercial cannabis is collaborating with Englewood community organizer Anton Seals to grow cannabis gardens on unused lots.  
Block Club Chicago describes how the Chicago-based multi-state grower, processor and retailer of commercial cannabis cleared another hurdle in its efforts to sell commercial cannabis from the former John Barleycorn's restaurant location one block south of Wrigley Field.  
The Chicago-based multi-state grower, processor and retailer of commercial cannabis announced more information about its License Education Assistance Program, designed to help social equity candidates obtain the legal right to craft grow, infuse and transport cannabis.  
Roll Call: Bethany Gomez, Steve Fix, Joline Rivera
A few words about three pioneers and personalities impacting Illinois-based cannabis industries.
Bethany Gomez –Managing Director, Brightfield Group
With a background that includes social justice causes and consumer product goods marketing and analysis, Bethany Gomez in 2015 founded The Brightfield Group. The Chicago-based agency provides market research and predictive analytics for commercial cannabis industries, including hemp and CBD. Brightfield's active LinkedIn community includes blog posts and local event information.
Steve Fix –Data Scientist, Adjunct Faculty at Oakton Community College
Recognizing an opportunity to couple cannabis-oriented vocational curriculum with expanding employment opportunities in Illinois and beyond, Steve Fix in 2019 started among the world's first courses on dispensary operations. Fix also works at Greengate Dispensary in Roger's Park, and advises individuals and organizations on obtaining dispensary licenses. As explained to the Chicago Tribune, "we want people who leave our program to realistically speak to different types of illness and weigh that against different types of cannabis." 
Joline Rivera – Founder, Kitchen Toke
Wondering how to apply cannabis dressing on your kale and cucumber salad or perhaps put a little extra something in that grilled herb sauce? Joline Rivera has you covered. The publisher of Kitchen Toke has an array of THC-infused recipes for you as well as some special CBD treats for your pets. Rivera is also the creative director of Sweet Paul Magazine and previously creatively directed US Foods / Food Fanatics Magazine. A quarterly printed version of Kitchen Toke is distributed to 2,500 readers throughout the world.