Anton Seals revolutionizes Englewood, Dispensary 33 owner talks up medical cards, Cresco feels the burn and more...
In this Issue
Englewood, cannabis and economic development
Dispensary 33 owner to eligible customers: "get medical cards" 
Grown In: Illinois discusses state-wide weed shortage on WBBM Noon Business Hour 
Cannabis Company Tracker: Cresco Labs, Green Thumb Industries, PharmaCann
Roll Call: Carrie Armour, Chad Bronstein, Wanda James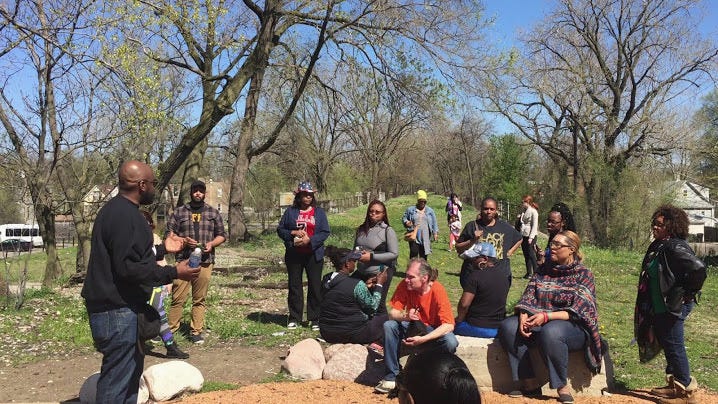 Englewood, cannabis and economic development
Illinois consumers spent more than $20 million on recreational cannabis in the first two weeks of the year. Demand is so high relative to today's limited supply, the actual "flower" that is smoked can barely stay on the shelves.
In this environment, Anton Seals, the Chief Equity and Executive Officer with Organic Urban Revitalization Solutions (OURS), is all business.  
"We are marshalling money to be in business," said Seals, who last week secured a social equity partnership with Elmhurst-based Revolution Global (formerly Revolution Enterprises), a company recognized as a national leader in the cannabis industry for its ability to grow, process and sell the plant in multiple states.
Seals grew up on the South Shore and is part of "a family with deep ties to Englewood". He is a community organizer who worked for Congressman Bobby Rush and developed the Interrupt Violence multimedia platform based on the Kartemquin film The Interrupters.
A jack of many trades, "I've had every f*#king job you've ever had", Seals in 2017 co-founded Growing Greater Englewood with Sonya Harper, an Englewood community activist turned Illinois state rep for the 6th Legislative District.
That organization, where he succeeds Harper as Executive Director, works with the city of Chicago to reconfigure unused neighborhood land into farms for the purpose of developing better food systems. This includes hemp, a non-intoxicating cannabis plant made federally legal to cultivate and sell in the 2018 Farm Bill. Seals also sees economic and social potential growing and merchandising the THC variations of the plant, with psychoactive properties long popular with Illinois consumers.
"We want to make sure our farmers have access to the right opportunities," he said, "and also think about the environmental impact of the plant."
Seals met Revolution CEO Mark de Souza a little over a year ago while serving on Governor J.B. Pritzkers's transition team. Revolution is now providing OURS, currently an 8-member limited liability corporation, with an array of pro bono services.
This includes applying for applications to sell, cultivate and infuse cannabis in Illinois - a cumbersome process that can require hundreds of thousands of dollars in fees just to have a shot. Once any permit is in place, Revolution - which has no existing financial stake in OURS - will advise on things like capital fundraising and business management. 
"I was drawn to Anton because he is a passionate entrepreneur and grassroots strategist who actively works to foster wealth-building opportunities in Englewood and throughout the South Side," said de Souza, who before entering the cannabis industry was a longtime trader at the Chicago Mercantile Exchange. "This partnership will help us learn to better advocate for black entrepreneurs looking to enter the cannabis space, and will make Revolution better equipped to fight racial disparities in our market."
Chicago-based Cresco labs, a publicly traded vertically-integrated cannabis company, similarly runs the SEED (Social Equity & Educational Development) incubator program to invest in entrepreneurs from communities most adversely impacted from the criminalization of cannabis. Green Thumb Industries, the other vertically-integrated and publicly traded Chicago-based cannabis company, manages a program called LEAP (License Education Assistance Program) that also helps Chicago residents obtain Transporter licenses.
Seals had exposure to initial legislation around social equity, and convened fellow members of his community to react and "insert ourselves into the conversation."
"We were like this is not going to f*#cking work," he said. "Black farmers along with latino labor are among the most marginalized in our systems. Black people were not just brought here for labor, but were also extracted for our technical knowledge for how we take care of the land."
While he believes an immense about needs to be done, he is pleased with modifications in the legislation that allow his business and community to partner with organizations who already have a significant share of a growing market.
"Revolution is committed to the same values as we are, he said. "They just come from a different framework."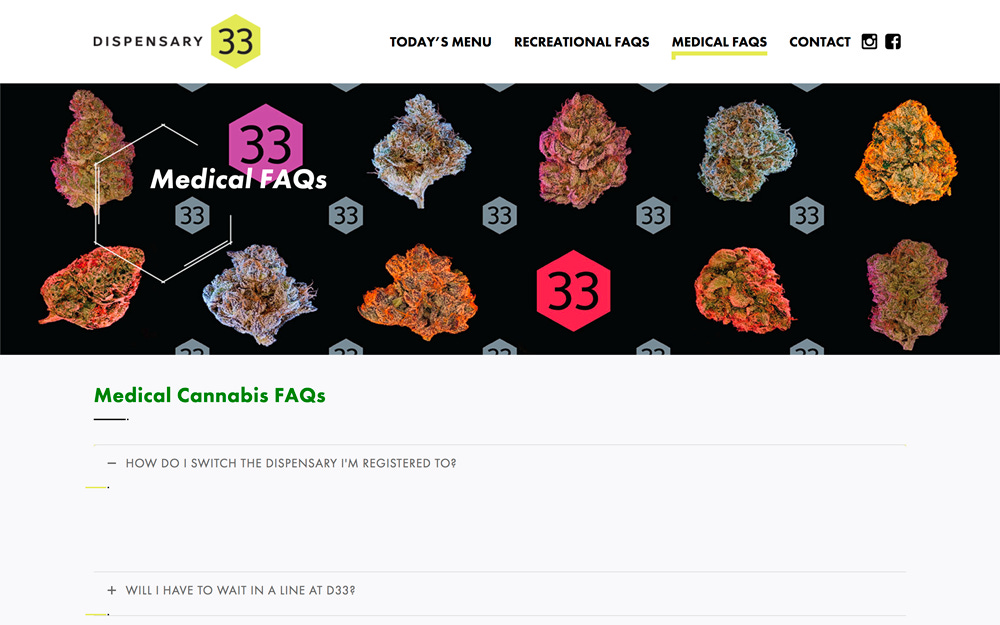 Dispensary 33 owner to eligible customers: "get medical cards" 
Fifteen days after adult-use cannabis consumption was legalized in Illinois, recreational consumers (at least on the North Side) are still waiting an hour or so to purchase product
.Those zealous enough to wait it out find limited inventory (i.e. "no flower") and higher prices than they may be accustomed to in alternate/illegal markets due to significant taxes applied to recreational product.
Zach Zises, who founded Dispensary 33 (Chicago's first) in Andersonville in 2015, has advice for existing and prospective customers of his store.
"If you're willing to wait in line for four or five hours, you are better off getting a medical card," said Zises, a former trader who grew up in New York and majored in Rhetoric at the University of California, Berkeley. "In the long run, it will be cheaper and easier."
Of course, not every adult Illinois resident is eligible for a medical card. However, as restrictions ease, there are many approved medical practitioners in the state happy - for a fee - to confirm if one is suffering from difficult to assess conditions such as chronic pain.
The economics are simple. Medical card holders pay a 2.25 percent tax on all products, while recreational users pay a 20.25 percent tax for flower, which rises to 30.25 percent for edibles, and 35.25 percent for vaping cartridges and concentrates. Card holders also enjoy a fast pass to zip through the line, and can generally choose from more options.
Dispensary 33, which has 28 employees, for now makes life easy for those not eligible for cards (or for whatever reason don't want to deal with the process). Customers check in with their cell numbers, are encouraged to explore Andersonville and shop at local businesses, and are given a text when the time is right. There is a one hour grace period before one loses a place in line.
This customer-centric approach has been part of the company's ethos since day one.
"To my mind," said Zises, "we distinguished ourselves from the very beginning. A lot of people thought they were running a pharmacy or Fort Knox. We started out with a very patient-oriented approach where everything is on display and not behind some bulletproof glass."
Inventory issues and long wait times will invariably normalize. Zises says Dispensary 33, which was awarded a second Chicago location, is looking at economic comparables from other states that legalized recreational consumption in recent years to gauge growth opportunities in Chicago."
You can look at a state like Colorado and you can project sales and come up with a reasonable approximation of what sales can become here," said. "Although because we are in Chicago where there is a fair amount of tourism, there could be a certain multiplier to that."
Grown In: Illinois discusses state-wide weed shortage on WBBM Noon Business Hour 
You may as well call it the High Noon Business Hour.Grown In: Illinois returned to the midday WBBM/CBS Radio Chicago program to discuss cannabis inventory shortages in Illinois.
While the ability to license product handlers remains a limiting factor in selling cannabis to consumers, the real issue is there simply is not enough product available. Further, the dispensaries most likely to have available product also are the ones with the license and infrastructure to grow and process it. 
Listen to the interview at about the 24:10 mark. 
Cannabis Company Tracker: Cresco Labs, Green Thumb Industries, PharmaCann
Each week, Grown In: Illinois shares a thing or two about  the largest cannabis companies in the country that just so happened to be based in The Land of Lincoln.
Cresco Labs
Feel the burn.
One day before a critical democratic primary debate in Iowa, presidential candidate and United States Senator from Vermont Bernie Sanders tweeted support for the unionization of Cresco workers at its Joliet grow facility.
"Workers in the cannabis industry deserve respect and fair wages," he/somebody on his behalf wrote to 10.3 million followers.
On Tuesday, workers voted 58 to 32 to unionize, and will be represented by the United Food and Commercial Workers Union. 
Green Thumb Industries
Nathan Bruemmer, a planning technician in Niles, told the Chicago Tribune that Green Thumb Industries received "conditional approval" from the village to open a dispensary at 9621 N. Milwaukee Avenue.
The publicly traded Chicago-based company also got a glowing writeup from Seeking Alpa, which said the company "is firing on all cylinders" after an impressive quarterly report. 
PharmaCann
Block Club Chicago reports that Oak Park-based PharmaCann is making a play to open a dispensary in the Old Logan Square Bank Building.
In total, PharmaCann has approval to open four Chicago locations in the central, north and northwest regions.
Roll Call: Carrie Armour, Chad Bronstein, Wanda James 
A few words about three pioneers and personalities impacting Illinois-based cannabis industries.
Carrie Armour – Principal at Armour Advocacy
As a director of Illinois Women in Cannabis, Carrie Armour brings legal and advocacy-oriented expertise to the sector and those within it. A former senior legislative attorney with the American Medical Association and Assistant State's Attorney at the Cook County State's Attorney Office, Armour has a unique vantage point representing physicians as they navigate more cannabis-based treatment possibilities. Here she explains everything you need to know about the Illinois Opioid Alternative Program.
Chad Bronstein – CEO, Fyllo
Chad Bronstein is the cofounder and CEO of one of Chicago's fastest growing digital companies, which just so happens to be predicated on cannabis. After serving as North American Chief Revenue Officer for global advertising technology company Amobee out of Chicago, Bronstein and partners recognized opportunity in addressing messy compliance issues associated with advertising cannabis. Last year their company Fyllo raised $18 million in venture capital to go after this market, and was recognized by World Business Chicago as among the city's most promising employers in the digital sector.
Wanda James – CEO, Simply Pure Dispensary and Keynote Speaker
While Wanda James is based in Denver, the cannabis industry entrepreneur turned a lot of heads last summer during an Executives' Club of Chicago panel, where she endorsed continual cannabis consumption and healthy experimentation with mushrooms. Her Simply Pure Dispensary was the first African American-owned business in Colorado to retail cannabis. She ran the first congressional campaign for now Colorado Governor Jared Polis in 2006. Before getting into politics, Polis made part of his fortune investing in Illinois-based companies.